Tim Peel Removed by NHL After Hot Mic Penalty Comments
[ad_1]

Veteran referee Tim Peel will never officiate an NHL game again after a hot mic caught him saying that he wanted to give a penalty to the Nashville Predators during a Tuesday night game.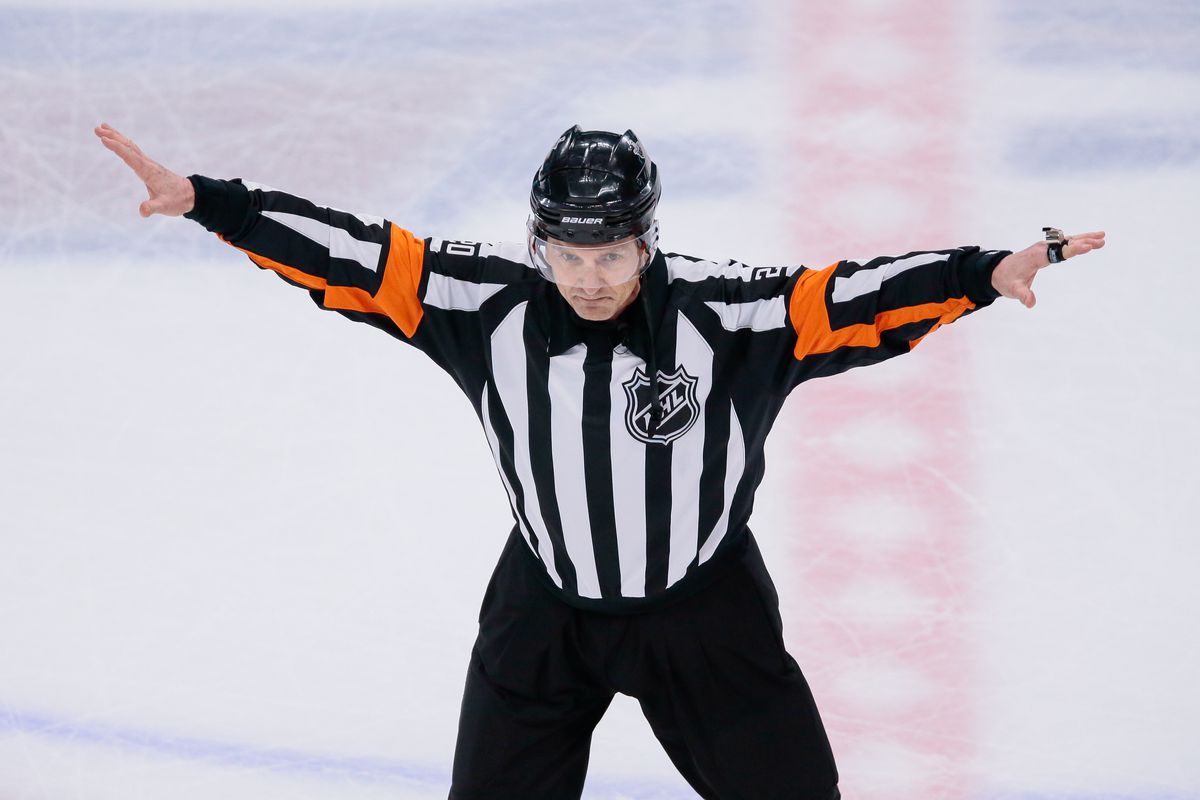 On Wednesday morning, the NHL announced that Peel would no longer be working for the league.
NHL: Peel Threatened Integrity of Game
The 53-year-old Peel has officiated games for the NHL since 1999. He had refereed 1,334 games prior to the 2021 season.
Peel called a penalty on Predators forward Viktor Arvidsson with 15:04 remaining the second period for tripping Detroit Red Wings defenseman Jon Merrill. Replays appeared to show that Merrill embellished the fall.
During a stoppage in play with 12:42 left in the period, the Nashville television broadcast overheard Peel saying "it wasn't much, but I wanted to get a f—ing penalty against Nashville early."
The NHL investigated the comments and ended Peel's career with the league shortly thereafter.
"Nothing is more important than ensuring the integrity of our game," NHL senior executive vice president of hockey operations Colin Campbell said in a statement. "Tim Peel's conduct is in direct contradiction to the adherence to that cornerstone principle that we demand of our officials and that our fans, players, coaches and all those associated with our game expect and deserve. There is no justification for his comments, no matter the context or his intention, and the National Hockey League will take any and all steps necessary to protect the integrity of our game."
The call ultimately played little part in the outcome of the game, which Nashville won 2-0. But sports leagues have always taken great pains to ensure the integrity – and the perception of integrity – in their games. Those efforts have taken on even more importance in the era of widespread regulated sports betting, as gamblers – and non-gambling fans – want assurances that every aspect of each game is on the level.
Comments Were Made to Nashville Players
Surprisingly, Nashville center Matt Duchene says that Peel made those comments not to other officials, but to the Predators bench.
"The crazy part is he was talking to [Predators center] Fil Forsberg in that clip," Duchene told WPRT-FM. "And he told our bench that. Really bizarre. I just think that can't happen. Imagine the scenario where they score on that power play, we lose the game, and we miss the playoffs by a point. I mean, imagine that scenario. Which, that could happen, right? That is not out of the realm of possibility."
The NHL may not have punished Peel as harshly as it seems. The league's statement doesn't mention a firing, and Peel was planning to retire at the end of the current season anyway.
Peel had already built a reputation as one of the worst referees in the NHL. He infamously called a questionable penalty against the Predators during overtime in a 2011 Western Conference semifinal game, and Yahoo Sports once ran a regular column talking about Peel's errors during 2013 and 2014.
[ad_2]

Source link