Super Bowl Streaker Bets on Self, Bovada Voiding Suspicious Wagers
[ad_1]

When Yuri Andrade ran on the field during the fourth quarter of Sunday's Super Bowl 55, he may have been trying to earn more than his 15 minutes of fame. Andrade claims to have made a $50,000 bet at Bovada at +750 odds that a fan would run on the field during the game, though the offshore sportsbook has already voided some bets on the Super Bowl streaker.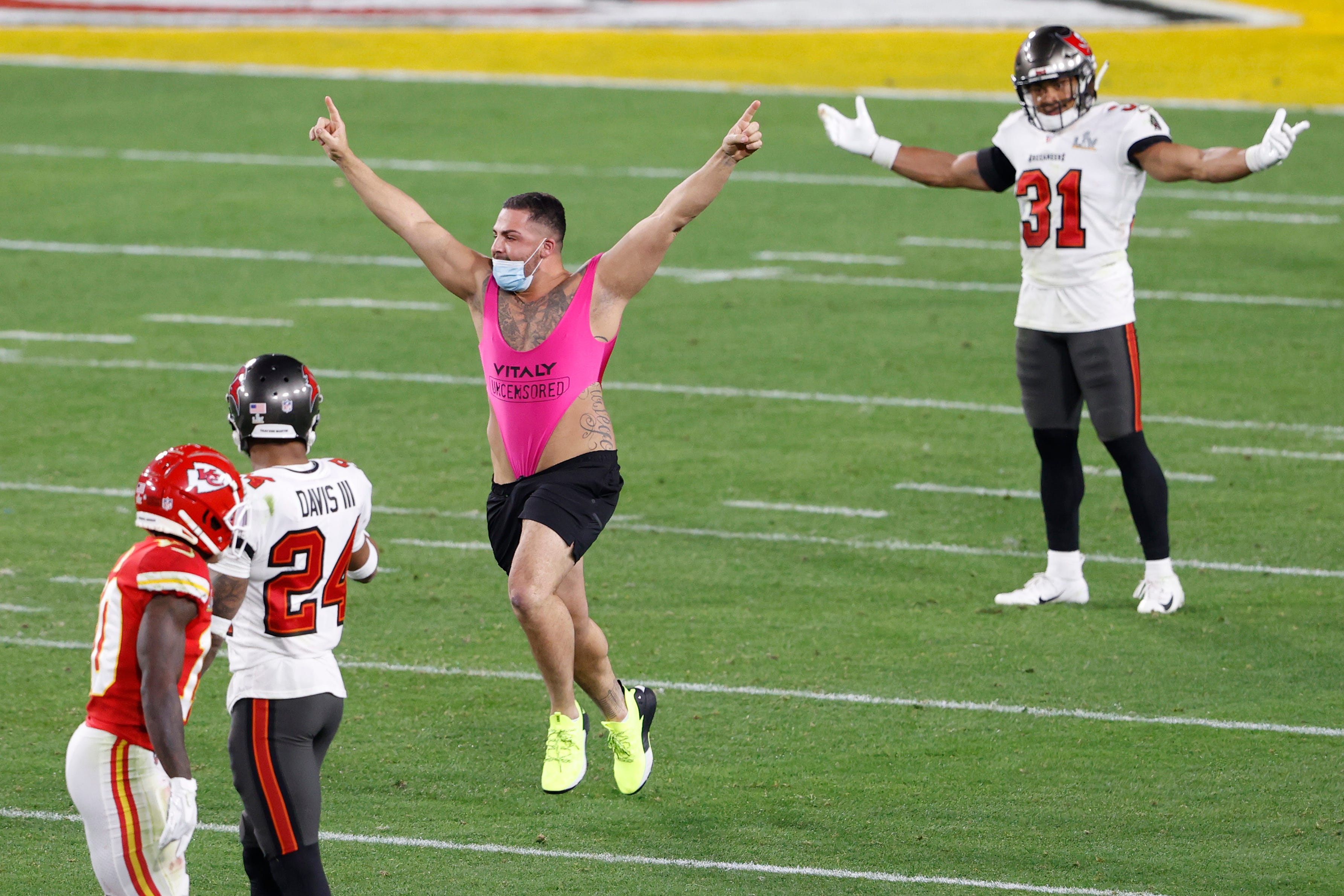 If Andrade had $50,000 on the streaker prop bet at those odds, he would stand to win $375,000.
Bovada Voids Bets Over Integrity Concerns
Andrade told radio station Wild 94.1 that he and a friend concocted a scheme that would allow him to get on the field and win his bet. Another person ran as a distraction to occupy security, allowing Andrade to make it onto the field and win the prop bet.
But Bovada announced Wednesday that it would void many bets on the Super Bowl streaker prop. That includes refunding everyone who bet "no," while also cancelling "yes" bets from anyone the sportsbook deems had inside knowledge about the plan. Bovada says it will pay those who bet "yes" but did not have knowledge the scheme.
🚨 We identified some betting irregularities on our Super Bowl prop 'Will A Fan Run Onto The Field During The Game?' 🚨

Learn more 👇🏼 pic.twitter.com/WYScwiiMDw

— Bovada (@BovadaOfficial) February 10, 2021
"Our players have always trusted us to ensure the integrity of all props offered in our sportsbook. We will continue to make sure that any publicity stunts or ill-intended behavior cannot adversely affect the outcome of a player's wager," Bovada wrote on Twitter. "We're be reaching out to all those players impacted by this event shortly."
A Bovada spokesperson told the Las Vegas Review-Journal that there was some suspicious line movement ahead of Super Bowl 55 on the streaker bet.
"It opened at +500, but the majority of plyers were betting 'no,' which forced us to move the line out for 'yes,'" the Bovada spokesperson said. "It was only late on that all the money started coming for 'yes.' It was then closed at +175. At one point it was at +750, but there were many different prices offered between open and close."
Experts Question Super Bowl Streaker Story
Beyond questions over the legitimacy of the bet given his actions, there's plenty of skepticism about Andrade's story, particularly as it concerns his supposed $50,000 wager.
For starters, Bovada placed a $1,000 limit on the Super Bowl streaker prop bet. Andrade later claimed that he convinced several friends to also place bets in order to get $50,000 down on the prop. He has also claimed that he or a friend placed a wager on the same prop bet at a Las Vegas sportsbook. However, Nevada bookmakers didn't offer any betting on whether a fan would run out on the field.
Officials charged Andrade with trespassing after apprehending him on the field at Raymond James Stadium in Tampa, Florida. Police released him on a $500 bond.


[ad_2]

Source link