Rising Star Señor Buscador Could Make a Late Arrival in Risen Star
[ad_1]

Watching Señor Buscador run with a betting ticket in your hand is a trip on an emotional roller coaster. You're standing there, pinning your ticket-cashing hopes on a drama-king horse who lacks any sense of urgency.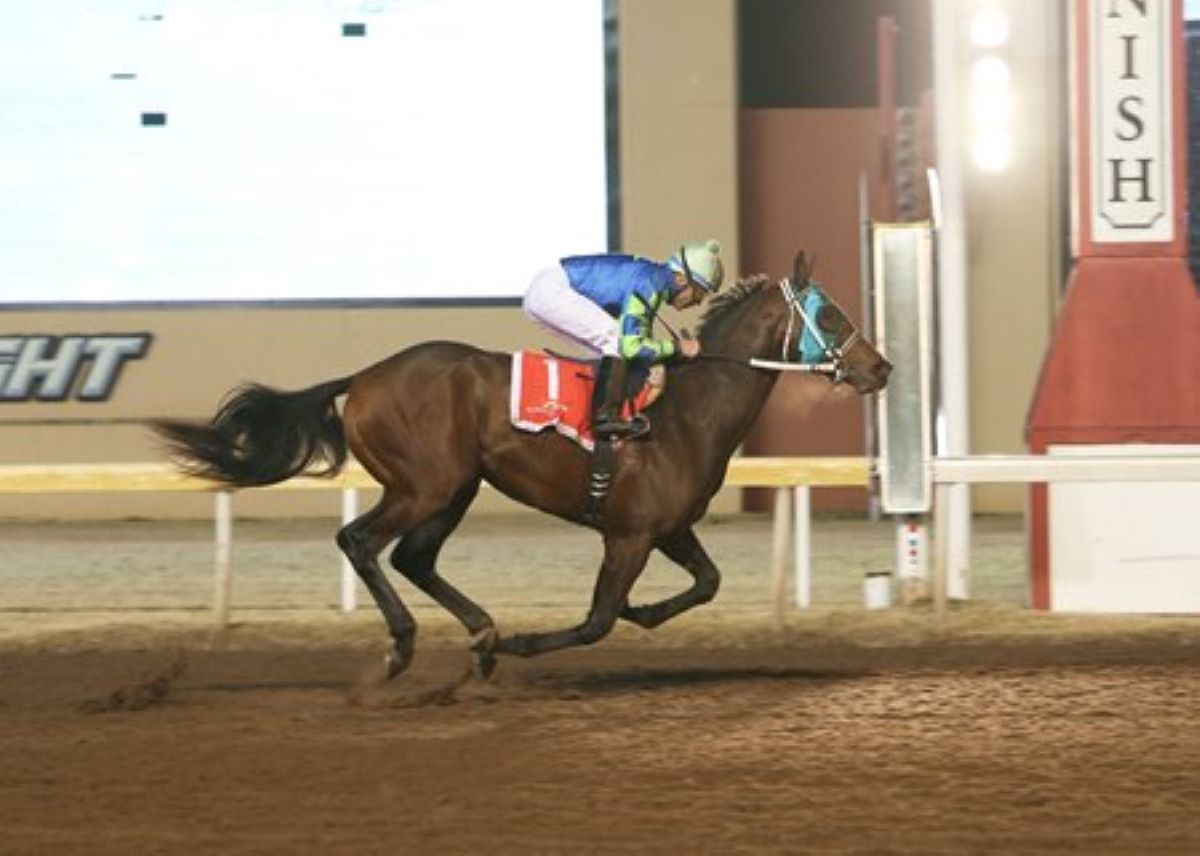 Until the stretch. That's when Señor Buscador finds that heretofore lacking sense of urgency. Which is rather poetic, given the sense of urgency Señor Buscador brought his trainer – Todd Fincher.
For the first time in his career, Fincher has a Kentucky Derby prospect – undefeated Señor Buscador. The pair dive into deeper Derby trail dirt Saturday in the $400,000 Grade 2 Risen Star at Fair Grounds. The Risen Star provides Derby would-bes the first major point-grab: 50-20-10-5 qualifying points to the top four finishers.
That means the Risen Star is in effect, a "win and you're in" Derby prep. In Señor Buscador's case, it means the undefeated Mineshaft offspring finds himself against established Derby contenders. There's Lecomte Stakes winner Midnight Bourbon, runner-up Proxy, third-place Mandaloun and fourth-place Santa Cruiser all aboard. Derby prospects with double-digit futures odds to win the Run for the Roses.
Could Señor Buscador be Fincher's Derby Ticket?
If this is rarefied air for Señor Buscador, it might as well be Neptune for Fincher. He's never run the Risen Star, much less the Derby. Now, he gets a taste of the former with an unlikely candidate. That candidate is 40/1 to win the Derby on Circa Sports' Kentucky Derby Futures Board. He's 28/1 at William Hill Nevada.
"I've never been there. It's a big race, there's Kentucky Derby points on the line and I'm really looking forward to it," he told Fair Grounds publicity. "I think the distance (1 1/8 miles) is absolutely in his favor. My wish list would be two preps and hopefully qualify for the Kentucky Derby."
Forgive Fincher for getting ahead of himself. After all, his prize prospect hasn't exactly gotten ahead of himself at the start of both his races. He won a November maiden special weight at Remington Park with an uninspiring 74 Equibase Speed Figure. But Señor Buscador won it coming from 10 lengths back at the three-eighths call. He was fourth at the stretch, then pulled away for a 2 ¼-length victory.
Springboard Mile Vaulted Señor Buscador to Prominence
That, however, was merely the opening act for what followed six weeks later. Fincher threw Señor Buscador into Remington's Springboard Mile, an early Derby prep. Señor Buscador ran 10th and last on the backstretch. He was 12 ¼ lengths back at the quarter pole and 11 ¼ lengths behind at the half-mile pole.
At the three-quarters pole, Señor Buscador was eighth, 5 ¾ lengths behind leader Flash of Mischief. But by early stretch, Señor Buscador picked off all seven horses in front of him. He won going away, beating runner-up Cowan by 5 ¾ lengths. The 107 Equibase marked a 33-point improvement from his maiden-breaking debut. Señor Buscador's 93 Beyer Speed Figure from that race is the best in the Risen Star field.
"He has more speed than you've seen, but he just does his own thing," Fincher said. "We didn't teach him to do that. We taught him to come from behind, but not walk out of the gate and do a slow roll before he does anything. He's so nerve-racking to watch him run. They get so far back and you think 'What the heck?' But he makes it work."
Can He Make it Work Without Lasix?
There are two questions for Saturday. First, can Señor Buscador's stretch escapades work against a much tougher field than the one he destroyed in the Springboard? And second, Señor Buscador ran the Springboard on Lasix, which cost him the 10 Derby qualifying points he would have claimed for that win. He's running the Risen Star without the anti-bleeding medication. You never know how a horse will respond the first time they're weaned off Lasix.
Fincher, meanwhile, savors the ride. Three years ago, he trained Señor Buscador's half-brother Runaway Ghost. He won the Grade 3 Sunland Derby and looked to be Fincher's elusive Derby ticket. But Runaway Ghost suffered an injury that spring and missed the Derby.
"We hoped he would develop into this kind of horse, but you get let down too many times," Fincher said. "We knew he could run quite a bit, but we didn't have any idea he could be at this level. But we hoped. But you just never know until you see it on the track."
[ad_2]

Source link