NY Yankees Manager Aaron Boone Has Surgery to Install Pacemaker
[ad_1]

The New York Yankees will not have Aaron Boone for an unspecified amount of time after he took a leave of absence to address a medical matter that included surgery to install a pacemaker.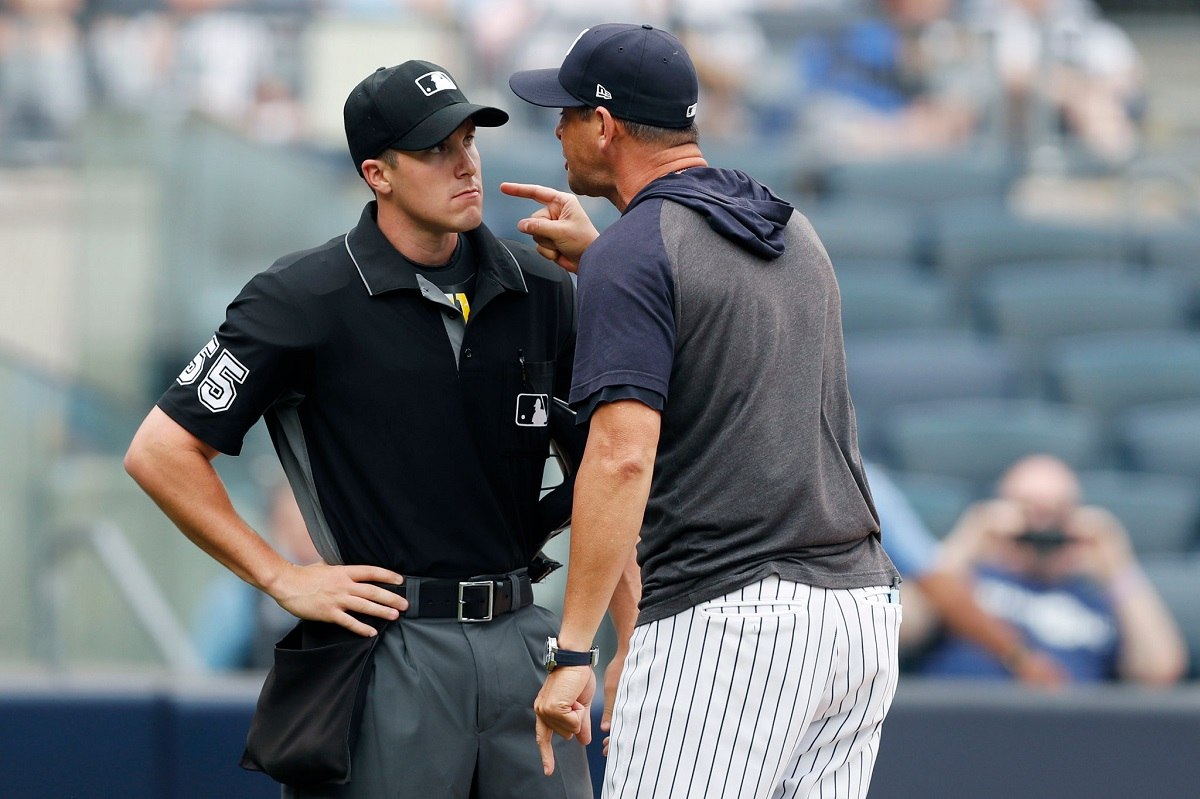 No word yet on who will take over as interim skipper. Carlos Mendoza is the current bench coach and Phil Nevin is the third base coach. The Yankees expect Boone, who turns 48-years old next week, to return sooner than later.
Boone suffered from fatigue and shortness of breath, which was related to his heart condition. The pacemaker will vastly improve his overall quality of life. It will allow him to still remain as the Yankees manager, which is great news to his family and the organization.
In three seasons with the Yankees, Boone is 236-148 with a .615 winning percentage. He won 100-plus games in his first two seasons with the Yankees, including 103-59 record in 2019.
Despite the Boone pacemaker news, the Yankees did not see any major line movement on the MLB futures board. The Yankees are still the second-highest favorite at +600 odds to win the World Series, according to a recent update by the Mirage Casino (via BetMGM) in Las Vegas.
Boone History Heart Problems
Boone had a heart condition dating back to his childhood. He still logged 12 seasons in big leagues as a third baseman with six ball clubs including the Cincinnati Reds and New York Yankees.
As a player, Boone is most known for his walk-off home run at Yankees Stadium to defeat the Red Sox in Game 7 of the 2003 ALCS. In New England, Boone is still referred to as 'Aaron F—ing Boone' after his fatal home run.
In 2009, Boone underwent open heart surgery to repair the bicuspid aortic valve. He played only ten games with the Houston Astros before retired from baseball at the end of the 2009 season.
Before Spring Training, Boone visited numerous specialists in New York City to address his fatigue issues.
"I underwent a series of tests and examinations," Boone told The Athletic. "While the heart checkup came back normal, there were indications of a low heart rate which, after further consultations with doctors in Tampa, necessitates a pacemaker."
"Aaron leads our players, coaches and staff with a rare combination of work ethic, intelligence and a genuine concern for others," said owner Hal Steinbrenner. "Our only priority at this time is Aaron's health and well-being, and we will support him in every way throughout his recovery."
Boone made news in the summer of 2019 after an umpire ejected him. On-field microphones caught him giving the rube umpire a piece of his mind. Boone introduced "f—ing savages" to describe Yankees' hitters. A video by Jomboy Media blew up and Boone's f-bomb savages comment went viral. F-in savages has now become a part of baseball vernacular and Yankees history.
Last summer, Jomboy posted another viral video of a Boone ejection.
[ad_2]

Source link