NFL All-Time Quarterback Passing Touchdowns Leaders
[ad_1]

We compiled another OG List featuring the Top 50 quarterbacks who tossed the most passing touchdowns in NFL history. Drew Brees ended his career with the New Orleans Saints with 571 passing touchdowns and retired ranked second all-time in NFL history behind Tom Brady. Brady tossed 581 touchdowns in 21 seasons spanning 301 games with the New England Patriots and Tampa Bay Bucs.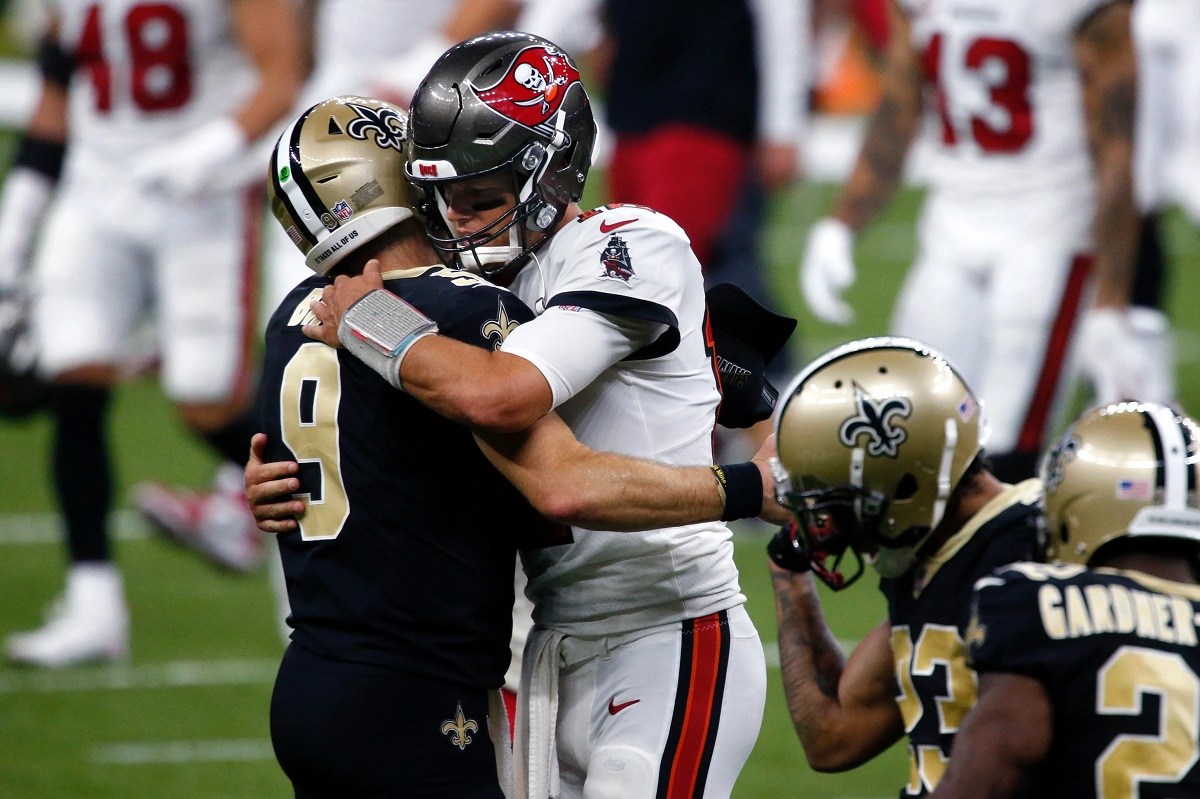 Brady is the GOAT and who knows how many touchdowns he'll have by the time he's ready to hang up the pads?
He tossed 80 touchdowns in the postseason, including 18 in the Super Bowl (not including SB 55). To put that number into perspective, only 166 quarterbacks in NFL history threw 80 or more touchdowns and Brady inflicted that damage in 44 playoff games.
Brady and Brees went back and forth the last couple of seasons battling each other for TD records. But when injuries caught up to Brees, Brady surpassed him. Brady discovered the Fountain of Youth in Tampa Bay. Old Man Brady looks like he could play for a couple more seasons. He's on pace to become the first and only player to reach 600 touchdowns, which should happen midway through the 2021 season.
Brees retired after a disappointing 2020 season in which he gutted through the pain of multiple injuries (shoulder, foot) including 13 broken ribs. Any way you look at it, 571 touchdowns from Brees is a remarkable feat.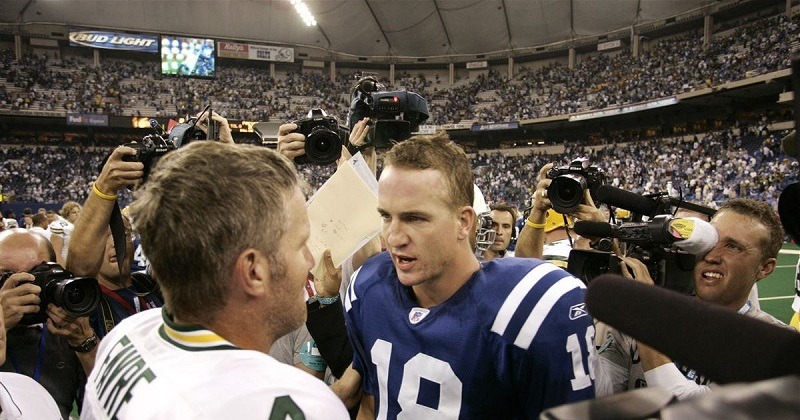 The 420 Club: Dan Marino, Brett Favre, Peyton Manning
Peyton Manning finished his career as the all-time passing leader with 539 touchdowns after he eclipsed Favre's 508 touchdowns. At the time, they were the only two QBs to reach the 500 mark before Brees passed both by 2019.
Miami Dolphins gunslinger Dan Mario ended his career with a heady 420 touchdowns. He's one of the best players in NFL history to never win a Super Bowl. His mark of 420 touchdowns was set in 1999 and he was the NFL's touchdown leader stood for almost eight seasons before Favre passed him in 2007.
TOP 7 LIST – PASSING TOUCHDOWNS
| | |
| --- | --- |
| 1. Tom Brady | 581 |
| 2. Drew Brees | 571 |
| 3. Peyton Manning | 539 |
| 4. Brett Favre | 508 |
| 5. Philip Rivers | 421 |
| 6. Dan Marino | 420 |
| 7. Aaron Rodgers | 412 |
---
Only four quarterbacks tossed over 500 touchdowns in their career: Brady, Brees, Favre, and Peyton Manning. Will Aaron Rodgers stay healthy long enough to reach that high-water mark of excellence?
Rodgers won his third MVP award after a sensational 2020 season where he threw a career-high 48 touchdowns, in which he also joined the 400 TD Club. Rodgers waited three years behind Brett Favre before he finally earned a starting job with the Green Bay Packers. In the last 13 seasons, Rodgers lit it up with 412 TDs and 45 postseason TDs. He became the seventh player in NFL history to reach 400 passing touchdowns.
Philip Rivers recently retired after 16 seasons with the SD/LA Chargers and one swan song of a season with the Indianapolis Colts. Rivers retired as #5 all-time in passing touchdowns.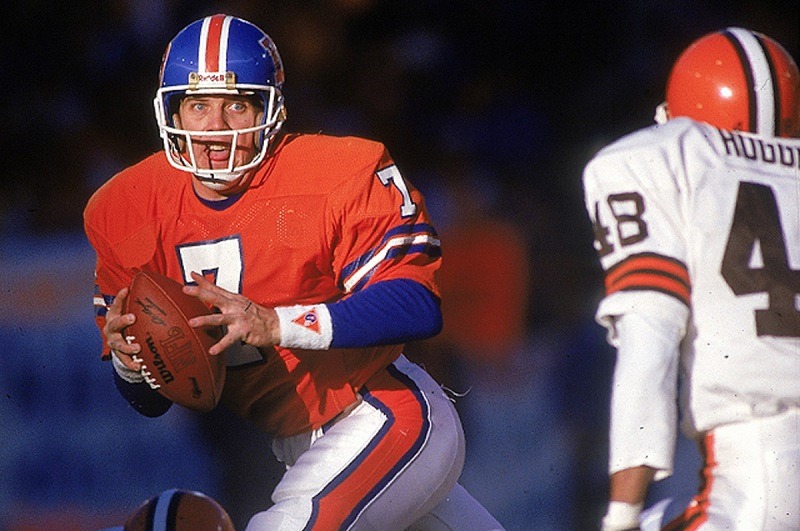 300 TD Club: Tarkenton, Elway, Eli, Matty Ice and Big Ben
Only a dozen quarterbacks tossed 300 or more touchdowns and John Elway just qualified with a 300 even before he retired. Elway finished his storied 16-year career with the Denver Broncos with 300 touchdowns and two Super Bowl wins.
Fran Tarkenton was the scramble master with the Minnesota Vikings in the 1970s. But he, nor the Vikes could never win the Super Bowl. Tarkenton was in the Top 10 all-time touchdowns before Matty Ice and Eli Manning passed him.
TOP 8-12 LIST – PASSING TOUCHDOWNS
| | |
| --- | --- |
| 8. Ben Roethlisberger | 396 |
| 9. Eli Manning | 366 |
| 10. Matt Ryan | 347 |
| 11. Fran Tarkenton | 342 |
| 12. John Elway | 300 |
---
Over the last few seasons, everything thought that Ben Roethlisberger was about to play in his final season. But Big Ben takes a licking, and keeps on coming back for more. He's on pace to join the 400 TD Club early in the 2021 season.
The durable Matt Ryan missed only three games in his 13-year career. Matty Ice tossed all 347 of his touchdowns with the Atlanta Falcons and tossed 20-plus TDs in 12 out of 13 seasons.
Eli Manning should be inducted into the Hall of Fame because he's one of only a dozen to reach 300 TDs. He's also one of the rare QBs to topple Tom Brady and Bill Belichick in the Super Bowl.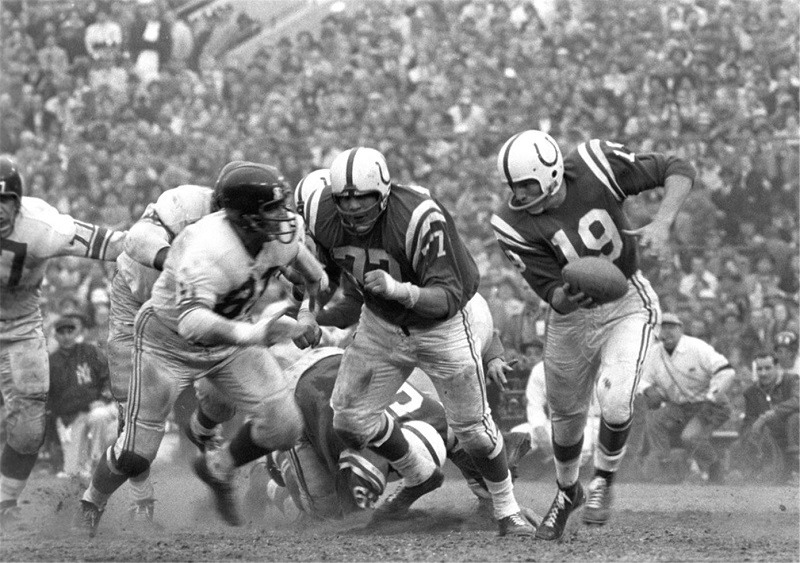 Legends: Moon, Montana, Unitas
Joe Montana played 16 seasons with the San Francisco 49ers and Kansas City Chiefs. Many stalwarts and old-timers consider Montana as the greatest quarterback in NFL history, much to the delight of Brady haters. Bill Walsh was the architect of the West Coast offense, while Montana ran it to perfection during San Francisco's dynasty in the 1980s. Montana only tossed for 273 touchdowns in his career, but he won four Super Bowls and earned two MVP awards.
Johnny Unitas played in the league for 18 seasons and tossed 290 TD strikes. Unitas is most known for his glory days with the Baltimore Colts. He finally won a championship in Super Bowl V, but won three NFL titles with the Colts.
Warren Moon paid his dues in the Canadian Football League before making his mark in the NFL with the Houston Oilers. Moon tossed 291 TDs and rushed for 22 more during a 17-year career.
TOP 13-20 LIST – PASSING TOUCHDOWNS
| | |
| --- | --- |
| 13. Carson Palmer | 294 |
| 14. Warren Moon | 291 |
| 15. Johnny Unitas | 290 |
| 16. Matthew Stafford | 282 |
| 17. Vinny Testaverde | 275 |
| 18. Joe Montana | 273 |
| 19. Russell Wilson | 267 |
| 20. Dave Krieg | 261 |
---
Carson Palmer's name is the big surprise here, but then again, he's the former #1 overall pick from the 2003 NFL Draft. Palmer spent numerous seasons on bad teams, which is why he flew under the radar. If he didn't break his arm midway through the 2017 he could've joined the 300 TD Club.
Matthew Stafford is 18 touchdowns shy of joining the 300 TD Club. Stafford should become the 13th player to achieve that feat midway through his first season with the LA Rams in 2021.
Russell Wilson tossed a career-high 40 touchdown this season. He passed for 34 touchdowns four times in his nine-season career with the Seattle Seahawks. If Wilson can play into his 40s, he'll have a shot at the trying rare 500 TD Club.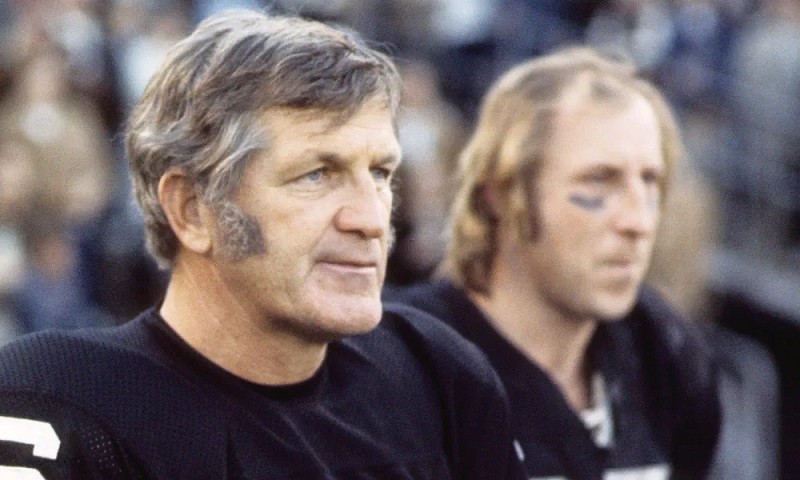 Tough Guys: Tittle, Kelly, Blanda, Fouts
George Blanda played quarterback until he was 48-years old. He started out with the Chicago Bears in 1949 and ended his career with the Oakland Raiders in 1975. Blanda holds the record for oldest player in the NFL, but Brady would love to challenge him for that title. Blanda is the only QB to play in the NFL in four different decades (1940s, 1950s, 1960s, and 1970s). Oh, and to add to Blanda's legend, he also kicked.
YA Tittle is most known for leading the New York Giants to multiple NFL titles games in the pre-Super Bowl era when the G-Men played in Yankee Stadium.
Dan Fouts might have had one of the best arms in the league during his 15-year tenure with the San Diego Chargers. He became the first player to pass for 4,000 yards in three-straight seasons. He's currently ranked #22 with 254 touchdowns.
TOP 21-30 LIST – PASSING TOUCHDOWNS
| | |
| --- | --- |
| 21. Sonny Jurgensen | 255 |
| 22. Dan Fouts | 254 |
| 23. Drew Bledsode | 251 |
| 24. Tony Romo | 248 |
| 25. Boomer Esaison | 247 |
| 26. John Hadl | 244 |
| 27. YA Tittle | 242 |
| 28. Len Dawson | 239 |
| 29. Jim Kelly | 237 |
| 30. George Blanda | 236 |
---
Jim Kelly is one of the toughest quarterbacks in the history of the game. Kelly, built more like a linebacker, led the Buffalo Bills to four-straight Super Bowl appearances, but they could never get over the hump. Kelly finished his career with 237 TDs.
Tony Romo is most known today for his exquisite broadcasting abilities. But before a bad back forced him out of the league, Romo threw 248 touchdowns and is currently ranked #24 all time.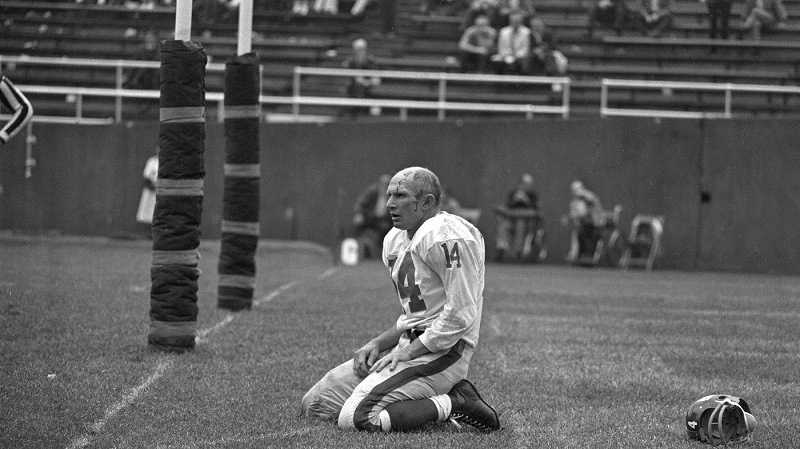 Motley Crew: McNabb, Young, Bradshaw, FitzMagic
Donovan McNabb, the former #2 pick in three NFL Draft out of Syracuse, played 11 seasons with the Philadelphia Eagles. McNabb tossed for 234 touchdowns and rushed for 29 more. He played for Andy Reid when he coached the Eagles, but they lost in Super Bowl 31 to the New England Patriots.
Steve Young played a stint with the USFL and backed up Joe Montana for many years with the San Francisco 49ers before he finally got his chance to start. Young unleashed 232 touchdowns and won three Super Bowls with the Niners. The agile young also rushed for 43 touchdowns.
Terry Bradshaw played his entire career with the Pittsburgh Steelers, where he won four Super Bowls with head coach Chuck Noll and won the Super Bowl MVP twice.
TOP 31-40 LIST – PASSING TOUCHDOWNS
| | |
| --- | --- |
| 31. Donovan McNabb | 234 |
| 32. Steve Young | 232 |
| 33. Jay Cutler | 227 |
| 34. Joe Flacco | 224 |
| 35. Ryan Fitzpatrick | 223 |
| 36. Andy Dalton | 218 |
| 37. John Brodie | 214 |
| 38. Terry Bradshaw | 212 |
| 38. Matt Hasselbeck | 212 |
| 40. Jom Hart | 209 |
---
John Brodie has a great story. The former QB from the San Francisco 49ers is also a stellar golfer and  won a title on the PGA Seniors tour back in 1991.
Ryan Fitzpatrick is a Harvard-educated journeyman nicknamed FItzMagic for his ability to lead teams to comeback victories. FitzMagic made history as the only player in NFL history to throw a touchdown for eight different teams (St. Louis, Cincy, Buffalo, Tennessee, Houston, LOL Lets, Tampa Bay, and Miami).
This motley crew also includes active quarterbacks in the twilight of their careers including Joey Flacco and Andy Dalton. But let's not forget about Jay Cutler, who played 12 years for Denver, Chicago, and Miami.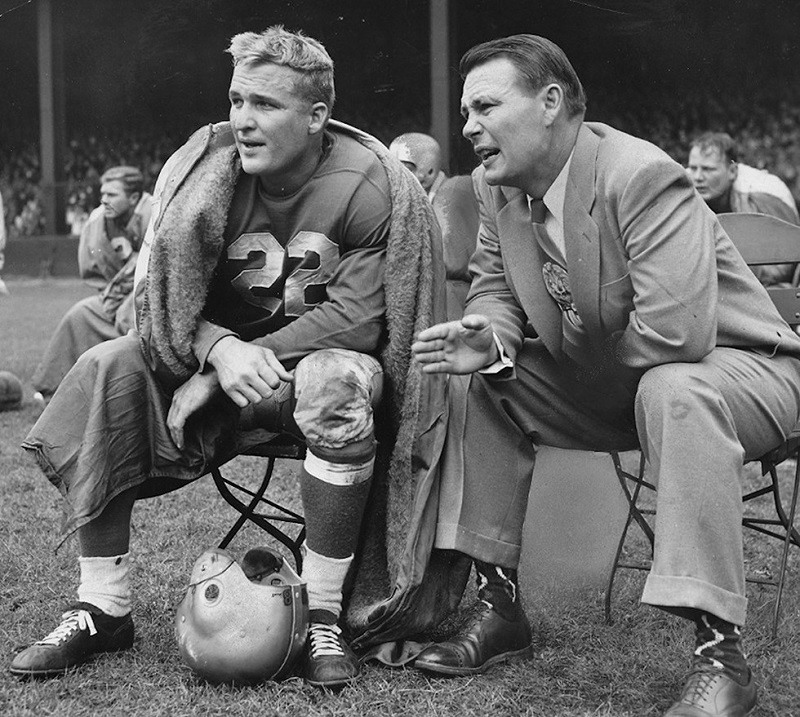 The Rocket, Sweet Bobby, Alex Smith
At the peak of his powers before he blew out his ACL, no one could stop the Rocket. Randall Cunningham tossed 207 touchdowns and ushed for 35 more over 16 seasons, including 11 with the Philadelphia Eagles and three with the Minnesota Vikings. In 1998, Cunningham threw a career-high 34 touchdowns for the 15-1 Vikes.
Kurt Warner started his career a little later than most pros. He paid his dues in the Arena Football League while waiting for his shot at the NFL. When he finally got a chance with the St. Louis Rams, Warner led the Greatest Show on Turf to a Super Bowl win. In 1999, Warner threw 41 touchdowns and won the MVP.
TOP 41-50 LIST – PASSING TOUCHDOWNS
| | |
| --- | --- |
| 41. Kerry Collins | 208 |
| 41. Kurt Warner | 208 |
| 43. Randall Cunningham | 207 |
| 44. Jim Everett | 203 |
| 45. Roman Gabriel | 201 |
| 46. Phil Simms | 199 |
| 46. Alex Smith | 199 |
| 48. Ken Anderson | 197 |
| 49. Steve DeBerg | 196 |
| 49. Joe Ferguson | 196 |
| | |
| --- | --- |
| 49. Bobby Layne | 196 |
| 50. Norm Snead | 196 |
---
Alex Smith never thought he'd play football again after a gruesome compound leg fracture. He almost died of an infection and surgeons recommended they amputate his leg, but he gutted it out and returned to the NFL in 2020. The league named Smith their Comeback Player of the Year for 2020. If he keeps playing, he has a shot at finally reaching the 200 TD mark.
Sweet Bobby Layne won three NFL titles with the Detroit Lions in the 1950s. He was an old-school, hard-living player that would smoke cigs and knock back a beer at halftime to epitomize the Mad Men-era of the NFL. In 15 seasons he tossed 196 touchdowns. He would have easily passed the 200 TD mark, but teams played a 12-game schedule back then.
[ad_2]

Source link