Mucho Unusual Takes Her Usual Path to Buena Vista Stakes Gate
[ad_1]

Like her father, who put himself out there against the best horses of his era, Mucho Unusual dodges nobody. Put a graded stakes race out there for fillies and mares and Mucho Unusual is a usual suspect.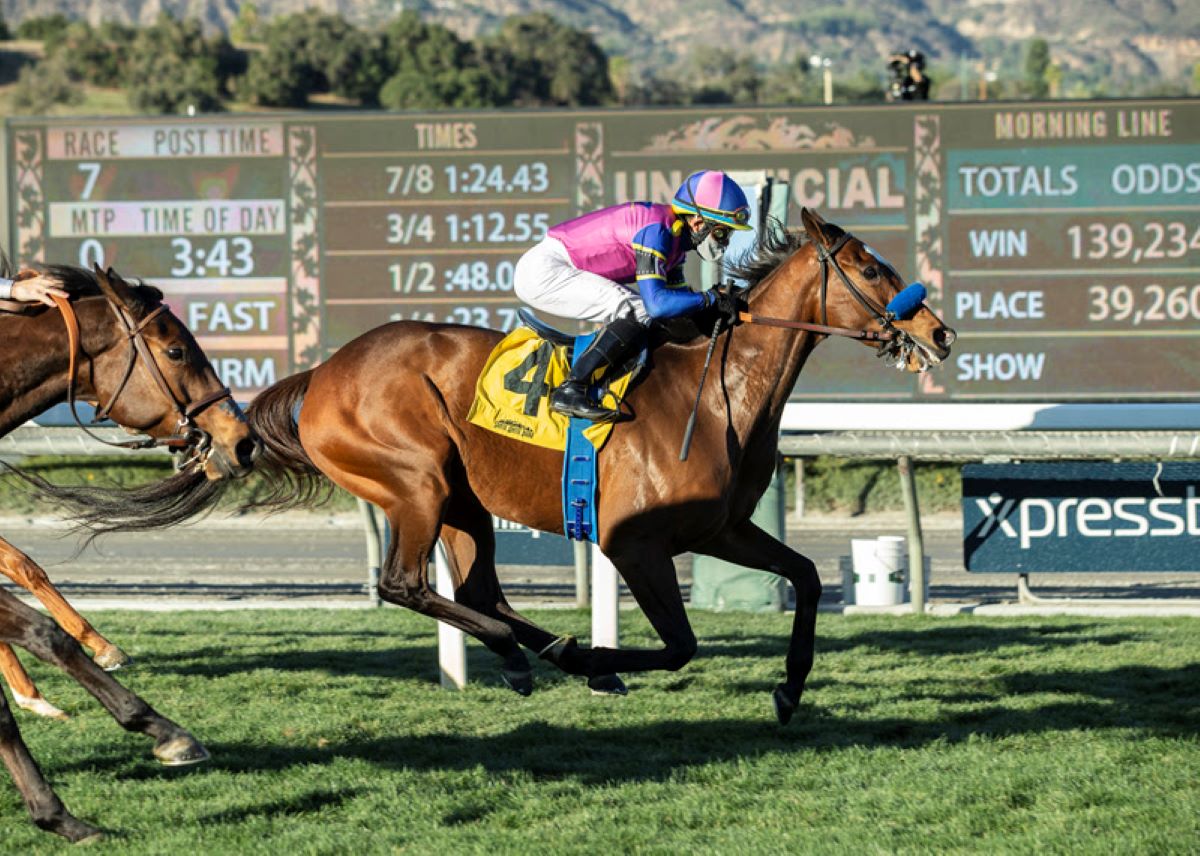 Better yet. Put it on the Santa Anita Park turf, where the California-bred daughter of 2013 Breeders' Cup Classic winner Mucho Macho Man owns six of her seven career victories. She shoots for No. 7 Saturday in the Grade 2 Buena Vista Stakes at Santa Anita.
The one-mile Buena Vista is the perfect Mucho Unusual race. She's 4-for-8 in her career in mile turf races. The fourth win came last month as the 2/5 favorite in the Grade 3 Megahertz Stakes, giving Mucho Unusual her third victory in her last four races.
Before that, Mucho Unusual captured the Grade 3 Robert Frankel Stakes Dec. 27. A Buena Vista victory gives her three graded stakes victories during Santa Anita's current meet.
This is clearly a horse for this course. And clearly a horse for a course who is on course to cash another ticket for bettors.
Mucho Unusual Cashed Six Times in Last Eight
Dating to her 2020 debut, when she finished third in last year's Buena Vista with a solid 107 Equibase Speed Figure, Mucho Unusual finished in the money in six of her last eight races (3-0-3). Her three victories came in the Megahertz, the Frankel and the Grade 1 Rodeo Drive last September.
The only two misses were big ones: an eighth in July's Grade 1 Jenny Wiley at Keeneland and a 12th in the Breeders' Cup Filly and Mare Turf. We did say this is a consistent horse who doesn't dodge anyone. And one averaging 105.6 Equibases over her last eight races.
Before Mucho Unusual clocked a pedestrian (for her) 88 in her Megahertz win, you'd have to go back to June 2019 to find a double-digit Equibase. That's 20 months and 14 races ago. And even then, she won that allowance optional claiming race at Santa Anita – with a 99.
Ending Bad Consistency by Being Consistent
Yes, Mucho Unusual is consistent. But that Rodeo Drive victory ended a consistency-in-futility streak — an eight-race winless streak. Mucho Unusual went from August of 2019 to September of 2020 without a trip to the winner's circle. She did, however, hit the board five times in graded stakes.
What changed? Trainer Tim Yakteen turned Mucho Unusual loose from the outset in the Rodeo Drive. She went gate-to-wire, beating a good field at 4/1 to earn a spot in the Breeders' Cup Filly and Mare Turf.
Mucho Unusual dodges nobody on turf, a good thing considering who's waiting for her Saturday. The competition starts with Going to Vegas, who carries in her own strong mile/turf resume: eight in-the-money finishes in nine starts. There's Grade 1 winner Red Lark, who won the Del Mar Oaks at 19/1 last summer.
Horseplayers Find Mucho Opportunities Here
There's fellow Cal-bred Warren's Showtime and Grade 3 winner Charmaine's Mia, who clocked a 98 Beyer Speed Figure in her Grade 3 Las Cienegas Stakes victory.
Mucho Unusual's mucho macho form and more than $822,000 in earnings aside, this is a wide-open handicapper's race.
[ad_2]

Source link