Mahomes, Brady, Kelce or Hill?
[ad_1]

Patrick Mahomes won the Super Bowl MVP last year and he's the favorite at -106 odds to win another MVP in Super Bowl 56. Tom Brady won the Super Bowl six times with the New England Patriots, and he also added four Super Bowl MVP trophies to his collection.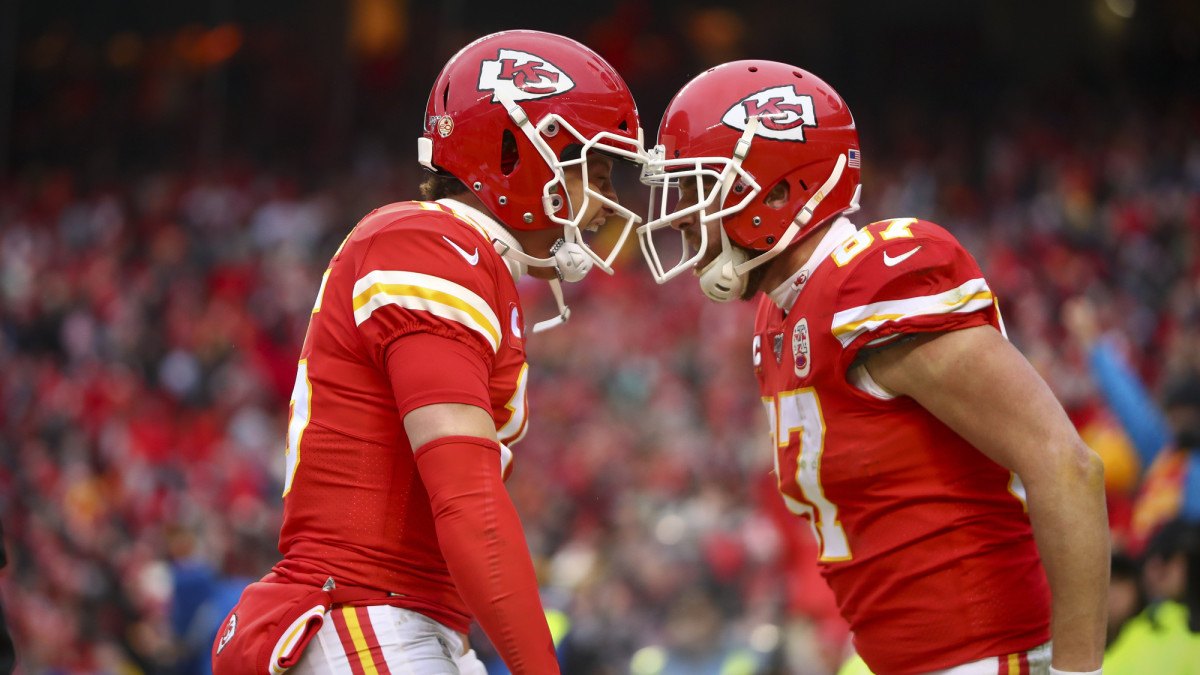 Brady is the second-highest favorite on the board at +190 odds, according to DraftKings.
If the Cheetah scores multiple touchdowns, Tyreek Hill (+1200) could snag MVP honors. Travis Kelce (+1300) will try to become the first tight end to win the MVP at the Super Bowl.
Patrick Mahomes -106
Tom Brady +190
Tyreek Hill +1200
Travis Kelce +1300
Leonard Fournette +2500
Clyde Edwards-Helaire +2800
Mike Evans +3000
Chris Godwin +3000
Devin White +4000
Tyrann Mathieu +4000
Darrel Williams +4000
Shaquil Barrett +5000
Ronald Jones +5000
Mecole Hardman +5000
Antonio Brown +6000
Chris Jones (KC) +66000
Rob Gronkowski +7000
Cameron Brate +8000
---
In case you're wondering, the kickers — Ryan Succop and Harrison Butker — were both listed as long shots at +12500 odds to win the MVP.
QB for MVP Again?
We recently compiled a list of Super Bowl 55 MVP winners. A quarterback won the MVP 30 times during the first 54 Super Bowls. A quarterback won the MVP seven times in the last ten Super Bowls, including Patrick Mahomes last year. Tom Brady won the MVP twice since Super Bowl 49 and four times overall.
In the modern era, the quarterback becomes the default favorite to win MVP as the league moved away from running and embraced a pass-first philosophy. A running back has not won the Super Bowl MVP in over 23 years.
You can simply try to pick the MVP by guessing the winner of Tampa Bay and Kansas City. The quarterback from the winning team usually earns MVP honors. Any other player, especially someone on defense, will have to put up insane numbers to be in consideration due to QB-heavy bias.
Only five players won the MVP more than one time. Mahomes would like to join that list with back-to-back MVPs. If Brady can lead the Bucs to a victory in Super Bowl 55, he'll hoist his fifth MVP trophy and add another notch in the GOAT's belt.
Prop Bet: MVP Winner by Position
Since Mahomes and Brady are the favorites, the value is on RB/WR/TE. A wide receiver or running back won the MVP seven times each, but a tight end never earned recognition for the best performance in the big game.
Linebackers are the favorites on defense with four MVP awards. Defensive ends, D-line, and secondary players combined for five MVPs. Desmond Howard, with the Green Bay Packers in Super Bowl 31, is still the only special teams player to win the MVP.
SB 55 MVP WINNER BY POSITION ODDS

QB -205
WR +450
RB/FB +800
TE +1000
LB +1200
DB +1800
D-LINE +2000
K/P/SNAPPER +5000
O-LNE +15000
---
You can fire away on a prop bet that a quarterback wins the MVP at -205 odds over at DraftKings. That's either Mahomes or Brady and also covers any backups like Chad Henne if some type of tragedy strikes Mahomes.
A tight end as MVP pays out +1000. If you took a flier on an TE MVP, you're hoping to see a monster game from tight end Godzillas: Travis Kelce and Rob Gronkowski.
The running games for both teams in Super Bowl 55 are not of any significance anyway, which is why running backs are not at the top of MVP odds list.
The starting running backs on both teams will also be utilized in the passing game. If Clyde Edwards-Helaire or Leonard Fournette wins the MVP, it'll be due to their total yards from scrimmage as a receiver and rusher, with a higher emphasis on receiver. You can also back Fournette at +2500 odd and Edwards-Helaire at +2800 to become the first running back to win the MVP since the late 1990s.
https://www.youtube.com/watch?v=pQ3TD7B9z0k
Check out more prop bets and other coverage of Super Bowl 55.
[ad_2]

Source link