LA Lakers Eying Mo Bomba and PJ Tucker
[ad_1]

There's no shortage of gossip in Hollywood, and everyone in SoCal cannot stop talking about the impending trade, or trades, that the Los Angeles Lakers will pull before the All-Star break. The Lakers have trade interest in acquiring center Mo Bomba from the Orlando Magic, or power forward PJ Tucker from the Houston Rockets.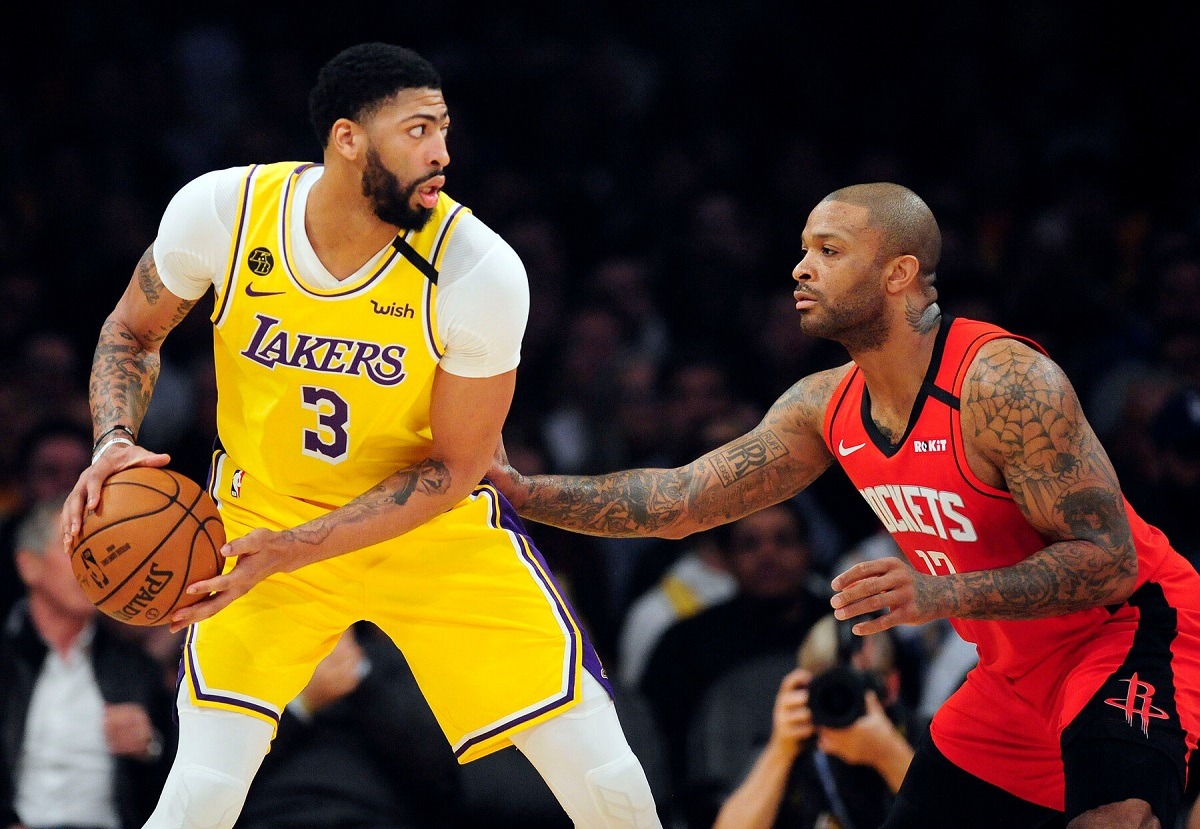 Davis' backup, Markieff Morris, has not been getting the job done and the Lakers are concerned that Davis might be out longer than they anticipated.
Since losing Davis to a calf injury, the Lakers are 1-3 with an unimpressive victory against the basement-dwelling Minnesota Timberwolves (7-25). The Lakers (22-10) lost three games in a row and slipped to the #3 spot in the Western Conference playoff standings. LeBron James and the Lakers are still among the elite and top-tiered teams in the NBA, but currently 3.5 games behind the Utah Jazz (25-8) in the west.
The Lakers need another big man, and they're definitely not interested in Boogie Cousins. The Rockets recently cut the lovable Cousins after a lackluster season. So, if the Lakers pass on Boogie Time, then who else could help them out?
If they want a young giant, the Lakers will make a trade to get Bomba. If the Lakers want a savvy veteran with deadly sharpshooting skills, then they'll snatch up Tucker in a trade.
The Trade Bait: Morris and McKinnie
Morris and small forward Alfonso McKinnie will be the unfortunate Lakers involved in any trade talks. The rarely-used McKinnie only sees garbage-time action or mop-up duty in blowouts. The small forward averages 1.9 ppg and 1.1 rebounds per game this season.
Morris, a 6-foot-9 power forward, excelled for the Lakers during their championship run last season inside the NBA Bubble. As a role player, Morris averaged nearly 6 points per game in the postseason, and shot 42% from 3-point land.
As a starter with the Washington Wizards a few seasons ago, Morris averaged 12.5 points and 5.9 rebounds per game. This season as Davis' backup, Morris averaged 4.4 ppg and 3.3 rebounds per game. He struggled from downtown shooting 30.9% from 3-point range.
Lakers Dig Mo Bomba
Bomba is a legit 7-footer and he's only 22-years old. The Orlando Magic selected Bomba with the #6 overall pick in the 2018 NBA Draft. In his first two seasons, he averaged 15 minutes off the bench. He displayed flashes of brilliance as a rookie when he averaged 6.2 points, 5.1 rebounds, and 1.4 blocks per game.
In only 14 games off the bench this season, he averaged 4.7 points and 3.7 rebounds. Bomba struggled in a limit role this season with his playing time cut in half, despite the fact that the Magic have been decimated with injuries.
Bomba could be a valuable asset as big banger who can bully other prominent centers in the Western Conference including Nikola Jokic and DeAndre Ayton. Plus, he's still on a rookie contract worth an affordable $5.9 million.
In addition to the Lakers, the Knicks also showed a bit of trade interest in Bomba after center Mitchell Robinson fractured his hand.
LeBron and PJ? Lakers Like Tucker
Tucker, who turns 36-years old in May, provides veteran leadership and stability as a consummate role player. As an undersized power forward at 6-foot-5, Tucker averaged 7.2 rebounds and 5.8 rebounds over his career that included stints with the Phoenix Suns and Toronto Raptors.
The Houston Rockets have been streaky this season and currently stuck in an eight-game losing streak. Even Tucker is a tad off averaging 4.5 points and 4.5 rebounds in 27 games as a starter this season.
Ex-Rockets head coach Mike D'Antoni slid PJ Tucker into the big man role when the Rockets traded Clint Capela and opted for a small ball line up. If Frank Vogel and the Lakers want to roll the dice with small ball while Davis is out, then Tucker is their guy.
Tucker earns $6 million per season, which fits into the Lakers' spartan budget. Plus, he survived playing with James Harden and Russell Westbrook at the same time and developed into a 3-point specialist. If Tucker meshed well with those ball hogs, he'll sync up nicely with LeBron.
[ad_2]

Source link