Fan Controlled Football is Ridiculous, Chaotic, Silly, and Fun
[ad_1]

If you tuned into Fan Controlled Football on Saturday hoping for something that resembles the NFL, you would be wildly disappointed. Purist fans will probably rebel just by hearing about the seven-on-seven action on a 50-yard field.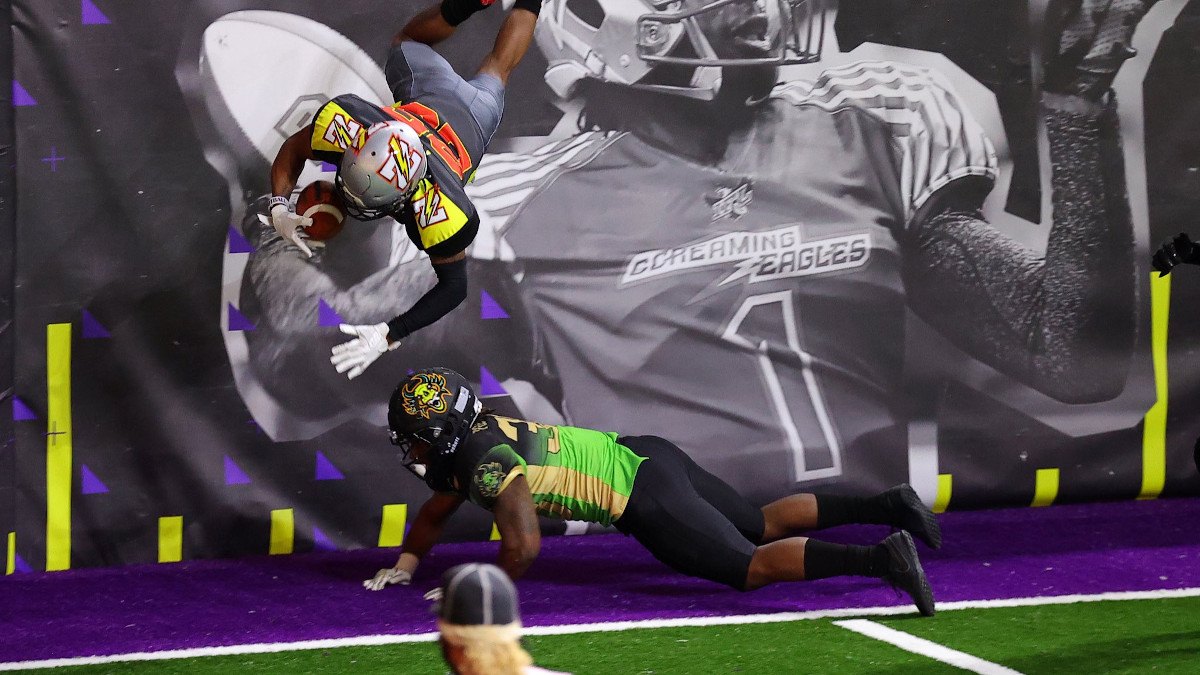 But in Fan Controlled Football, that's only the beginning. As the name suggests, fans control virtually every aspect of this league, creating an environment of pure chaos – but one that was also a blast to watch for those in the mood for a beautiful mess.
From Rules to Play, Fans Take Control of FCF
From before the league began play, fans got to make just about every decision for the four competing teams. They chose the uniforms, drafted the teams, and decided on a lot of rules changes. There are no kicks, and extra point conversations involve a receiver going one-on-one with a defensive back after the quarterback picks the ball up off a stool.
In other words, things are just a little weird.
"We're building something new and fresh and different, and we felt like if we could break away from the mold, it would reset expectations," FCF CEO Sohrob Farudi told USA Today. "So they could come up and say, 'Hey, I'm not going to even compare it to what I watch on Sundays because this is a whole new sport."
That meant it was difficult to know what to expect heading into the first night of games. The FCF uses a 20-minute running clock in both halves, which only stops when a team scores, at the one-minute warning, or inside that final minute. The fast-paced games wrap up in just about an hour.
The biggest draw for most fans will be calling plays during the game. Registered fans of each team can choose from eight players (four runs, four passes) while watching their squad play on Twitch or through the FCF app. Users who call lots of successful plays will see their FanIQ increase, giving them more weight in future votes.
'Washed Up' Manziel Playing Again
There aren't many big names playing in the FCF. One notable exception is Johnny Manziel, who suited up for the Zapper in a 48-44 loss to the Beasts. Manziel played limited snaps, going 1-for-5 for 11 yards passing while running for 67 yards and a touchdown.
Johnny Manziel's first FCF snap almost goes for 6.

Watch live: https://t.co/wCfHUSeLKg pic.twitter.com/9Y8p1ezNRM

— Fan Controlled Football (@fcflio) February 14, 2021
"Feels like I'm super washed up, but still had a blast," Manziel said afterwards, via USA Today. "That was the most fun I've had in a while."
That game between the Beasts and the Zappers also included one of the wildest plays to end a football game in recent memory, something that could be a portent of things to come in the FCF.
Wow.

What an ending. @FCFBeasts win. pic.twitter.com/LH1PPHobzG

— Fan Controlled Football (@fcflio) February 14, 2021
Whether you like one of those teams, the Wild Aces, or the Glacier Boyz, you shouldn't get too attached to the roster you saw this weekend, though. The FCF will hold a draft each week that almost completely mixes up the teams, other than two franchise players that remain on each squad.


[ad_2]

Source link