Banged-Up LA Lakers Sign All-Star Center Andre Drummond
[ad_1]

The Cleveland Cavs and Andre Drummond agreed to a contract buyout, and the two-time All-Star and reigning rebounding leader quickly signed a deal with the injury-depleted Los Angeles Lakers.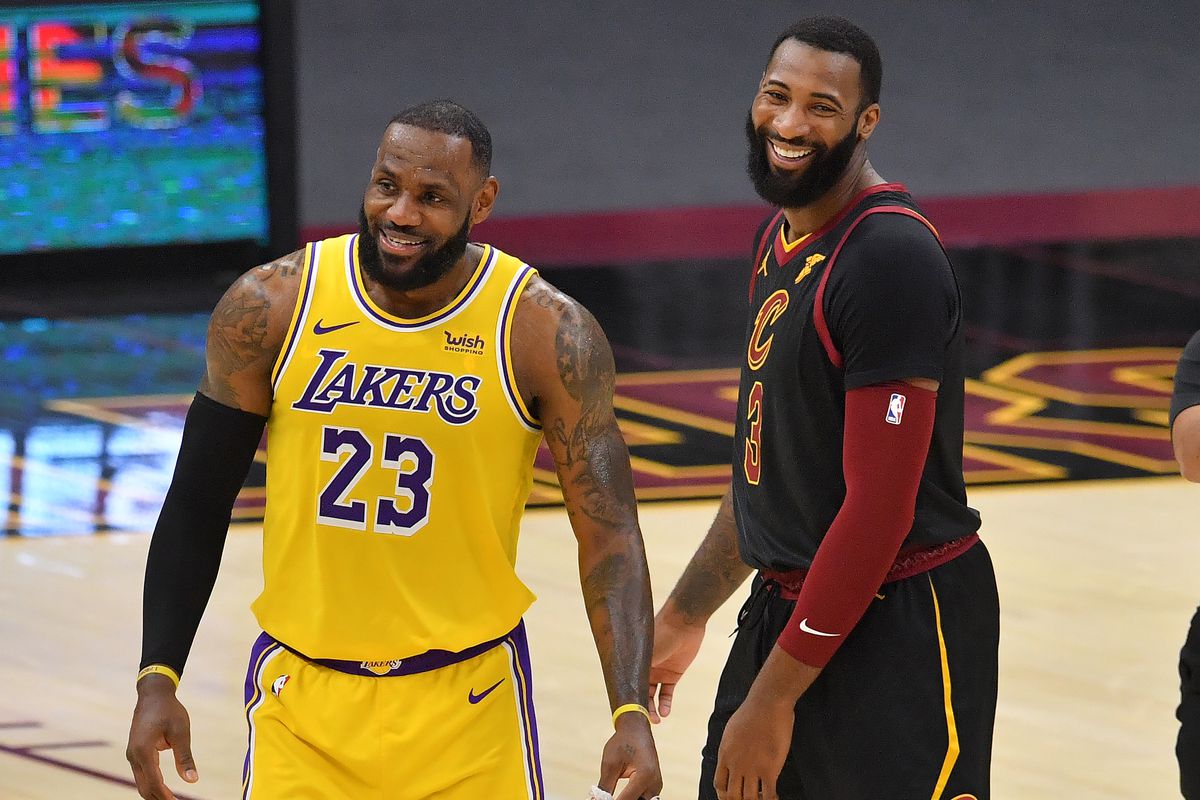 When Drummond signed with the Lakers, his newest Instagram post featured a black and white photo of himself clutching a basketball while wearing a photoshopped yellow Lakers jersey. He added a succinct message.
"Back to work," wrote Drummond followed by a purple heart and yellow heart emoji.
"Andre Drummond is going to give us a big lift in the immediate future and then obviously when we get going," said Lakers head coach Frank Vogel. "He can dominate the game on both sides of the ball. His physicality is something you have to account for."
Drummond, 27, led the NBA in rebounding four times, including the last three seasons. He is ranked #2 in the NBA this season with 13.5 rebounds per game and trails Clint Capela (14.1 rebounds).
The Lakers need Drummond to help out with the future of Anthony Davis a big fat question mark. Davis has been out since mid-February with a calf injury, and no one actually knows when he'll return. Initial reports suggested Davis would miss two to three weeks, but that was five weeks ago.
LeBron James suffered a high ankle sprain and he's expected to miss at least a month, but the Lakers will not know for certain until he's re-evaluated in a couple of weeks.
Lakers Add Huge Upgrade with Drummond
The LA Lakers did not make any major moves before the trade deadline, even though high-profile players like Kyle Lowry were mentioned in numerous trade rumors. The Raptors did not trade Lowry despite fielding calls from a dozen or more teams.
The Lakers eyed a pair of big men that were working on contract buyouts, which included LaMarcus Aldridge and Drummond. Aldridge signed with the Brooklyn Nets, who already added Blake Griffin two weeks earlier to bolster the bench. The Lakers were not going to miss out on the versatile Drummond.
"Drummond gives us powerful, anchor-point skills on both ends of the court," said Lakers general manager Rob Pelinka. "We feel extremely fortunate to add a player of his caliber and magnitude to our core group at this stage of our journey to defend the NBA title."
"We're all thrilled to add Drummond, a player of his caliber to our team," said Vogel. "He's one of the best centers in the league, someone that every defensive coordinator is going to have to account for and to figure out how to handle him when they're trying to slow down AD and Bron and our guards."
Drummond joins reigning Sixth Man of the Year Montrezl Harrell and Marc Gasol as the centers on the roster.
"We gonna get a hard-working guy," said Markeif Morris, who played with Drummond in Detroit. "He's gonna change the game a lot for us with his size, his rebounding ability and his ability to block shots. Being around this type of team is gonna raise his level of play."
UConn > Detroit > Cleveland > LA
Drummond grew up in Connecticut and played his collegiate ball at UConn. He spent a one-and-done season with the Huskies before he entered the NBA Draft. The Detroit Pistons selected Drummond with the #9 pick in the 2012 NBA Draft. After a rough rookie season, he earned a starting center job in his second season. Since then, he averaged a double-double every season.
During the 2017-18 season, Drummond averaged 16 rebounds per game. He led the league in rebounding four times and earned a spot on two All-Star teams in 2016 and 2018.
Last February, the Pistons traded Drummond to the Cleveland Cavs. He averaged 17.5 ppg and 11.1 rebounds per game in just eight games before the NBA shutdown due to the pandemic.
This season, Drummond averaged 17.5 ppg and 13.5 rebounds with the Cavs. If he didn't have to split time with Jarrett Allen, he probably would've led the league in rebounding once again.
Pat Riley, ex-Lakers coach, stuck to a mantra that said, "No rebounds, no ring."
The Lakers added one of the league's top glass cleaners, to help them defend the championship.
The Lakers (30-17) slipped to the #4 seed in the Western Conference playoff hunt, but have the Portland Trail Blazers and Denver Nuggets right on their tail. The Lakers are 9-11 since Davis' injury, but 2-4 since LeBron's ankle injury.
Ever since LeBron went down, the Brooklyn Nets took over as favorites to win the NBA Championship. The Lakers are still second-highest team on the futures board at +400, according to the Westgate SuperBook in Las Vegas.
[ad_2]

Source link