Anthony Edwards & Karl-Anthony Towns Score 83 Points
[ad_1]

The Minnesota Timberwolves suck as the worst team in the NBA, but at least they have a couple of bright young stars to watch like Karl-Anthony Towns and rookie Anthony Edwards. Towns and Edwards combined for 83 out of 123 total points for the Timberwolves during an upset victory over the Phoenix Suns. Edwards scored a career-high 42 points and became the third-youngest player in NBA history to explode for 40 or more points in a game.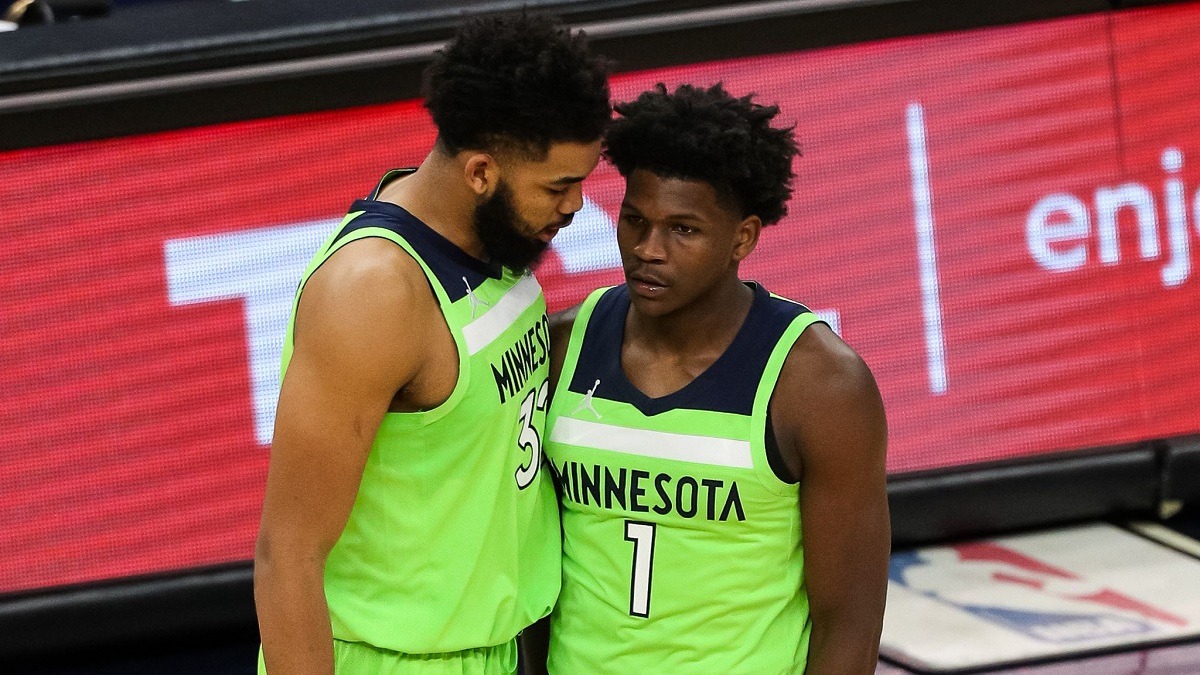 Not to be outdone, Bradley Beal and Donovan Mitchell also had 40-point nights against each other when the Washington Wizards upset the Utah Jazz. Beal, the NBA's leading scorer, lit up the Jazz for his fifth 40-point game of the season.
| | | | |
| --- | --- | --- | --- |
| | POINTS | REBOUND | ASSISTS |
| Bradley Beal | 43 | 2 | 5 |
| Donovan Mitchell | 42 | 4 | 6 |
| Anthony Edwards | 42 | 7 | 3 |
| Karl-Anthony Towns | 41 | 10 | 8 |
---
On a night when four players dropped 40-plus points, Russell Westbrook and Julius Randle added triple-doubles. Westbrook, who has been linked to the LA Clippers in trade rumors, tallied a 35-point triple-double with 15 rebounds and 13 assists in the Wiz's upset over the Suns.
Meanwhile, the Knicks' Randle set a career high with 17 assists during his triple-double. He dished ten dimes in the first quarter against the Orlando Magic. Randle tallied his second triple-double since Sunday with 18 points, 17 assists, and 10 rebounds.
KAT Scratch Fever
It took nearly 40 games before the Minnesota Timberwolves played their best game of the season. Credit interim head coach Chris Finch for transforming the Timberwolves into a juggernaut offense. The T-Wolves are 3-2 since the All-Star break and finally reached the 10-win mark.
Towns, the former #1 pick in the 2015 NBA Draft out of Kentucky, averages 23.1 points and 10.3 rebounds this season. He missed a month of the season with a wrist injury, but he's been playing some of his best ball since Finch took over for Ryan Saunders.
On Thursday night, Towns and Edwards were an unstoppable dynamic duo.
"Unbelievably special," Finch said. "They played pretty efficient. KAT almost has a triple double."
Against the Suns, Towns shot an efficient 15-for-24 from the floor, including 5-for-7 from 3-point range. He missed a triple double with 10 rebounds and 8 assists.
Towns and Edwards both scored 40-plus points, which marked only the second time that occurred in Timberwolves history. In the first half, the dup combined for 41 points out of 53 total points scored by Minnesota.
What Were You Doing When You Were 19-Years Old?
Just when you thought LaMelo Ball from the Charlotte Hornets was running away with NBA Rookie of the Year, Edwards has been trending upwards since Finch took over as head coach. Edwards went #1 in the 2020 NBA Draft out of Georgia, and he's now +300 odds to win NBA ROY as the closest competitor to Ball, who is -700 odds at DraftKings.
Finch gave the rookie the green light to shoot with impunity, and Edwards responded. On Sunday, Edwards scored a career-high 34 points in a two-point victory over the Portland Trail Blazers. He knocked down six 3-pointers, but jacked up 14.
On Thursday against the Suns, Edwards erupted for a career-high 42 points. He shot 13 treys and connected on four. Overall, he was 15-for-31 from the field.
"We're winning," said Edwards. "It's always happy when we're winning."
Edwards join an elite list of NBA teenagers that dropped 40-plus points in a game. Only LeBron James and Kevin Durant were younger than Edwards when they first notched 40 points in a game.
Edwards averages 16.8 points, 4.2 rebounds, and 2.5 assists per game this season. In March, Edwards averages 28.7 ppg with only one game under 20 points.
Fifth 40+ Night for BB
Meanwhile, the Utah Jazz and Washington Wizards were involved in their own shootout. The Wizards prevailed, which ended a losing streak, and they secured their first win in the second half of the season.
Beal and Westbrook combined for 78 points in the uplifting victory, with BB leading all-scorers with 43 points and Westbrook adding 35 and a triple-double. Beal shot 16-for-24, including 4-for-6 from 3-point range.
The Wizards came into this game as +11 under dogs and won by nine points.
"We're playing against the best team in basketball," said Wizards head coach Scott Brooks. "Our antennas were up. We've got to do that every night."
"Teams are just playing more physical against us," explained Mitchell. "They just wanted it more."
Beal leads the NBA with 32.5 ppg. He's been linked to the Miami Heat in trade rumors, but BB is not going anywhere.
Spida Wakes Up with 42
We've been waiting for Mitchell to go off with a monster game. He had several 30-point games this season, but he had not gone "full-blown Spida" like one of his stellar scoring performances in the 2020 NBA Playoffs.
With Beal and Westbrook in town to play the Jazz, Mitchell waited for the perfect moment to go off. Unfortunately, the Jazz lost a game that they were favorites by nearly 11 points. Even without starting point guard and All-Star Mike Conley, the Jazz were still double-digit favorites.
The Jazz gave Conley the night off and Joe Ingles started in his spot. Ingles did not squander the opportunity, who set a career-high with 34 points.
Mitchell's 42-point night overshadowed Ingles' big night.
Check out more video highlights and installments of NBA High Guys.
[ad_2]

Source link